Thank you for continuing to promote and support the Westshore Young Leaders Network.  We stand proud with each of you as we know all community members make the difference.
Promoting a stress free holiday season requires just a few healthy reminders. Check out a few tips from Drug Free Action Alliance:
https://www.drugfreeactionalliance.org/files/know-teach-december1.pdf
New Year's Eve Events for Families
If you are looking for Family-friendly New Year's Eve events for kids and families across Northeast Ohio this list is for you! There are many fun options taking place where you can celebrate New Year's Eve with Kids.
http://northeastohiofamilyfun.com/new-years-eve-events-for-kids/
Are you promoting Zero Tolerance or Responsible Drinking? Sending a Clear Parental Message is Crucial during the holiday party season. Here are a few tips from Lisa Frederiksen at Breaking the Cycles.com
Wishing you and yours a happy, healthy and joyous holiday season!
Yours in Prevention
Noreen Kyle
Westshore Young Leaders
School Prevention Specialist
Dinner Makes a Difference—On September 28 and Always
The More Often Teens Eat Meals with their Families,
The Less Likely They Are To Smoke, Drink or Use Drugs. *
The Westshore  Young Leaders  support National Family Day and its campaign to Be Involved. Stay Involved.* 
Join National Family Day
Take the Family Day STAR Pledge.
S- Spend time with your teen
T- Talk to them about their friends, interests and the dangers of nicotine, alcohol, and other drugs
A- Answer their questions and listen to what they say
R- Recognize that I have the power to help keep my kids substance free!
As always we encourage your questions and feedback as to how we can better serve the community.
1 By the National Center on Addiction and Substance Abuse at Columbia University. The Center Launched the Family day event in 2001
Take part in an
Adult Community Perception Survey
& register to win a $250 Visa Card.

​
go to: https://www.surveymonkey.com/s/WYLN-CPS
* Must be 18 years old to participate
Researchers from Cleveland State University will be conducting this
survey and are working with the Westshore Young Leaders Network (WYLN)
to evaluate local substance abuse prevention efforts.
DEADLINE IS FRIDAY, APRIL 3, 2015
If you would like more information about WYLN, please call Noreen Kyle at (440)250-9916
WHAT: 2015 NCAA BASKETBALL TOURNAMENT BOWLING PARTY
WHEN:    FRIDAY, MARCH 27, 2015
TIME:  6:30PM—9:30PM
WHERE: BAY LANES, 27229 WOLF RD. BAY VILLAGE
COST: $10.00(Pay at the door)
BRING CLEAN TENNIS SHOES FOR BOWLING
ACTIVITIES:  FOOD AND BEVERAGES PROVIDED
BOWL A FEW GAMES WITH YOUR FRIENDS
WATCH NCAA GAMES for CONTESTS
RSVP:noreen@westshoreyoungleaders.org
PRINT STUDENT'S NAME
                                                              SCHOOL
WESTSHORE YOUNG LEADERS NETWORK

MEDICAL, LIABILITY AND INSURANCE FORM

 

High School Lock-In

Friday, March 6, 2015

Westlake Recreation Center

28955 Hilliard Blvd., Westlake, OH 44145

I understand that the the lock-in at the Westlake Recreation Center will be on Friday, March 6, 2015 and will start at 8:45p.m. and end at 3:00a.m. on Saturday, March 7, 2015.   I will be unable to leave the premises unless there is a medical or other family emergency.

In the event that I experience a minor medical condition, such as headache, stomach ache, or other complaints that would require medical attention, the parents will be contacted for disposition.

I hereby release and hold harmless Westshore Council of Governments/Westshore Enforcement Bureau – Westshore Young Leaders Network and the City of Westlake from any and all liability from any losses, claims, expenses, actions, causes of action, cost damages and obligations (financially or otherwise) arising from any and all acts and unforeseen contingencies that result in injury or damage to property while participating in this event.  I further understand that Westshore Council of Governments/Westshore Enforcement Bureau – Westshore Young Leaders Network and the City of Westlake will not be held responsible for my negligence including, but not limited to, horseplay, frolicking and/or noncompliance.

Check here if you DO NOT wish to be photographed (you still need to sign below)
I explicitly grant the Westshore Enforcement Bureau, the absolute right and permission to use photographs and video in which I am included during Westshore Young Leader events for educational, promotional and/or publication purposes.

I grant, without any restriction, permission to the Westshore Enforcement Bureau to decide the format of publication, and waive my right to approve any finished product.  I understand that I do not own copyright of the photograph(s) or video.

I certify that I am a minor and that my parent/guardian has authorized the execution of this agreement.

In the event of an emergency, the following person will be contacted to provide transportation for medical or other assistance:
S     M     L     XL     XXL
Signature of Student
Name of Student (Printed)
T-shirt size (Circle one)
Student's email address
Student's cell number
Parent's email address
Signature of Parent/Guardian
Name of Parent( Printed)
Date
Parent Home Phone Number
Parent Cell Phone Number
Student birth date(if over 18 years)
Home Address:

  IMPORTANT: PLEASE COMPLETE AND SIGN REVERSE SIDE

INSURANCE INFORMATION
(Only to be used should an emergency arise)

HEALTH INSURANCE CO.

Member number

Group Ins. Number

Date of last Tetanus

Current Prescriptions and OTC Medications:

Special dietary needs and food allergies:
TO:  PARENTS
RE:  WESTSHORE YOUNG LEADERS, 4th ANNUAL LOCK-IN
WHEN:  FRIDAY, MARCH 6, 2015
TIME:  8:45 PM – 3:00 AM
WHERE:  WESTLAKE RECREATION CENTER
28955 Hilliard Blvd., Westlake, OH  44145
PHONE: (440) 808-5700 (will be on during this event)
COST:  $10.00
IMPORTANT:  RETAIN THIS PAGE FOR YOUR RECORDS IN CASE OF EMERGENCY
IMPORTANT NOTES TO PARENTS AND TEENS:
Forms and money must be returned to school by February 27, 2015
Entrance: The entrance to the Lock In will be through the Community Room which is to the right of the main entrance. Please note that teens are to arrive between 8:45-9:00 p.m.
If your teen needs to arrive later due to a previous commitment, please advise us so that we can expect them for a pre-authorized late admission.
Parents of teens who are registered to attend this event and do not arrive will be notified by phone. There will be absolutely NO ADMITTANCE without pre-registration!
Teens will be leaving the Lock In though the Community Room doors at 3:00 a.m. Saturday, March 7, 2015.
Teens will be unable to leave the premises unless there is an emergency. Parents may contact the Westlake Recreation Center staff by calling the main phone line listed above.   Noreen Kyle, School Prevention Specialist may be reached by cell phone at 440- 336-2371 or Jeff Capretto, S.A.I.C. 440-336-2535.  
ACTIVITIES:  SWIMMING, BASKETBALL, CORN HOLE, VOLLEYBALL, MOVIE, MUSIC, BOARD GAMES, FOOD
Thank you for supporting your teen's participation in the Westshore Young Leaders Network Lock In.  The Westshore Enforcement Bureau (WEB) staff appreciates your confidence in us by placing your child in our care for this event.  We look forward to your son or daughter's continued involvement in Young Leader's events and activities.
It is WEB's mission to provide opportunities for the teens in Westshore communities to choose alcohol and drug free activities and to develop their unique potential for leadership through participation in the Westshore Young Leaders Network.
Does your son clam up the moment you ask a question? The author of Middle School Makeover offers advice this two-minute video.
TEACHERS: Students who leave home feeling positive are better able to concentrate and perform in the classroom. With that in mind, you are encouraged to share this TEACHable MOMENTS tip in full, with your parent network. You may forward electronically, use in your school communications or print and use as a handout.

Know! The Five Love Languages of Tweens/Teens

According to Marriage and Family Counselor Gary Chapman Ph.D., there are five basic languages of love that we all speak, our tweens/teens included. His theory is that each person has a primary love language, one that speaks louder and deeper to an individual than the other four love languages. In the case of our children, if we do not know and speak their primary love language sufficiently, they may never feel truly loved, regardless of our other expressions of love.

Dr. Chapman asks parents to visualize their child having a love tank. So long as that love tank is full, our sons and daughters feel loved by us, and they are better equipped to handle the road-bumps during their journey through adolescence. However, children whose love tanks run dry are more likely to struggle through the teen years and look for love in all the "wrong places." Certainly no parent wants that for their child! Therefore, we must get to know the five love languages, and discover which one(s) touches our child's heart most deeply.

The Five Love Languages, according to Dr. Chapman:

PHYSICAL TOUCH: Hugs, kisses and tender touches – When our children are little, we cover them in kisses, give them hugs and hold their hands. But as children grow older, many parents feel awkward with physical touch. Yet if this is a child's primary love language, appropriate physical show of affection communicates warmth, safety and love and is just as much needed in adolescence.

WORDS OF AFFIRMATION: Words of love, encouragement and support – When our children were toddlers learning to walk for example, affirmation came easy. "You can do it," many of us would say, empowering them to take that first step. Our tweens/teens still thrive on words of encouragement and support, and they still need to hear it from us. Every child also needs to hear their parents say, "I love you." If this is their primary love language, they may need to hear it more often than others.

QUALITY TIME: Your undivided attention – This can be challenging regardless of your child's age. We're all busy, but it is vitally important to carve out time regularly where you can zero-in on your child and give him/her your full attention. This can be as simple as sitting on the couch together chatting about his/her day, taking your son or daughter to see a movie, going bowling or just grabbing frozen yogurt together. If this is a child's primary love language, extra time together must be a priority.

RECEIVING GIFTS: Not to be confused with materialism – Some parents speak the primary language of gift-giving to show their love. They put not just money, but time and effort into choosing meaningful, thoughtful gifts. Yet when gift-giving is used exclusively, to some parents' surprise, many children on the receiving end feel unloved. Gifts may speak the language of love to some, but not to all.

ACTS OF SERVICE: Doing things for our children out of love (not just obligation) – This may be helping your child with homework, driving him/her to the bus stop on a chilly day or getting their sports gear together for them before they head to practice. It is expressing your affection by lightening their load. Such acts make children feel truly loved and valued – especially those who primarily speak this love language.

Now that you know the five languages of love, it is time to discover which language is most likely to fill your child's love tank. Dr. Chapman has created an online Love Language Quiz to assist – and it is well-worth the few minutes it takes. Knowing and speaking your child's primary love language creates a better sense of connection between the two of you, which translates into increased understanding and communication and ultimately, an improved relationship with your son or daughter.

To go to the Love Language Quiz for Teens, visit: http://www.5lovelanguages.com/profile/teens/.

For more information on The Five Love Languages, and to go to the Love Language Quiz for other age groups, including adults, visit: http://www.5lovelanguages.com/ (click on Discover Your Love Language).

Source: Chapman, Gary. December 2012 issue of Thriving Family Magazine: Speaking the Right Love Language – Love Languages and Your Teen.

Talking regularly
with kids about the dangers of alcohol, tobacco and other drugs reduces their risk of using.

Know! urges you to encourage other parents to join Know!.

Click here for the
Know! Parent Tip
Sign-Up Page. 

Know! is a
program of:


Lifetime Prevention
Lifetime Wellness

Drug Free Action Alliance
6155 Huntley Rd. Ste H
Columbus, Ohio 43229

Link to the Drug Free Action Alliance Facebook Page
Rise Up  Moms Club
Are you a mom who is feeling the stress of watching 
your young adult
or teen

 suffer as they struggle with their drug or alcohol use?
Do you wonder about the difference between enabling and support?
Are you living in fear of your child's relapse?
Do you miss your child's smile, laughs and hugs and feel powerless
over your ability to bring those back?

Imagine your life one year from now. If it's the same as it is now, are you okay with that? Imagine there really are things you can do to effectively help your child – simply by helping yourself. You have the power to change everything! Are you ready to take back your life?
What is the Rise Up Moms Club?
If you've been in constant emotional pain because of your child's drug or alcohol abuse, the Rise Up Moms Club uses proven research-based techniques that will help you get unstuck and finally receive support, tools and strategies that will help you move forward.
The Rise Up Moms Club is a monthly membership program designed by Cathy Taughinbaugh. Each month's module will allow you the opportunity to make a new positive change.
The program is designed so you CAN create one simple but POWERFUL positive change a month. Each step of the way is an investment in a better tomorrow.
What This Program Will Help You Do:
Feel less isolated
Understand what your child is going through
Feel better as you take care of yourself
Learn research based strategies that can help you and your child
Build better relationships within your family
Be a role model of positive change for your child
Each month you will gain tools and strategies to help you along the way:
Take care of yourself first [January]
Learn the difference between enabling vs. loving support [February]
Dig into the science behind addiction [March]
Resolve fear and shame [April]
Ignite your relationships with the power of positive communication [May]
Understand the power of using empathy and kindness [June]
Create peace of mind with a month of mindfulness [July]
Empower yourself by finding your voice [August]
Include yourself in the circle of self-compassion [September]
Find your way back to happiness [October]
Learn the power of gratitude for inner peace [November]
Accept what is as you move forward [December]
You deserve to live a life filled with love and happiness! You have the power to make it that way. Life can get better and better. Just $10/month!
Try It Free for 7 Days:
Life doesn't have to be a constant struggle. We are providing you with these recovery tools as well as a place to share your concerns with other parents who have the knowledge and understanding of what you're going through.
I know that it feels awkward!! I get it because I've been there too!
It all starts with reaching out and receiving the support you need! You'll also be able to help lift up others with your experience and wisdom.
We can work together. Life can feel better, and answers will begin to make sense. You will have the opportunity to discover the possibilities for your personal situation. You do have the answers inside. It's a matter of taking the time to discover what will make your life better and what will work for your situation. This is your chance!
If you are ready to receive support, understanding, kindness and compassion here is:
A Look Inside the Rise Up Moms Club
The Rise Up Moms Club is streamlined to help you look at one theme each month so that you can feel better as a parent and as a person during this stressful time. When you feel supported, more empowered, and knowledgeable, you will relate to your child in a more healthy way and be capable of staying centered and focused on your own precious life. Who doesn't want that?
The Plan:
Each module will have a plan with a few simple steps for you to follow during the month to create positive change.
Accountability:

We will work together to hold each other accountable as we make positive steps forward.
Articles:
We'll give you an article each week on that month's topic. They will be filled with information, tips and inspiration to uplift you or keep you going when you're tempted to give up.
One Teleconference:
There will be one live teleconference in the middle of each month on the monthly topic. We will record the teleconferences so that you can listen later if you can't make the live call.
Private Group:
A community of friends who understand will be created in a private group.
Reminder:
You'll get an email reminder to encourage and support you.
Bonus: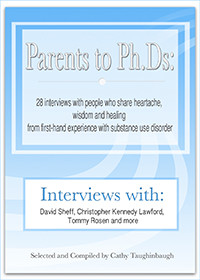 As a bonus for signing up for the Rise Up Moms Club, you'll get my new ebook, Parents to PhDs: 28 interviews with people who share heartache, wisdom and healing from first-hand experience with substance use disorder. The ebook will be free to all Rise Up members. It's designed to share information from all aspects of prevention, addiction, treatment and recovery that can provide answers and a place to start.

25 Facts You Should Know About the Growing Heroin
Epidemic
Drug and alcohol overdoses are the leading cause of accidental death among young people in the northeast and other parts of the country. The estimated loss of life is alarming. ~ Casa Columbia
Are you concerned about your child's possible heroin use?
Do you wonder how heroin quietly became an epidemic?
A different kind of ad played this year at Super Bowl XLIX.
While the music is upbeat with a bit of a jingle to it, a local St. Louis affiliate aired a 60-second PSA focusing on heroin. A young man who has overdosed on heroin in his bedroom is found by his mom.
The purpose of the ad was to raise awareness about the epidemic of heroin that has affected too many of our kids.   
"That's How" is the PSA from NCADA – St. Louis 
http://youtu.be/nPF-Juks2N0
Here are some facts about the dangers of heroin. Too many of our kids unknowingly start out on prescription drugs thinking that they are not that dangerous. Once they are addicted they turn to heroin because it is cheaper. 
From the National Institute on Drug Abuse (NIDA)
1) Heroin is an opioid drug that is synthesized from morphine, a naturally occurring substance extracted from the seed pod of the Asian opium poppy plant.
2) Heroin usually appears as a white or brown powder or as a black sticky substance, known as "black tar heroin."
3) Nearly half of young people who inject heroin surveyed in three recent studies reported abusing prescription opioids before starting to use heroin. Some individuals reported taking up heroin because it is cheaper and easier to obtain than prescription opioids.
4) A range of treatments including behavioral therapies and medications are effective at helping patients stop using heroin and return to stable and productive lives.
5) Although heroin use in the general population is rather low, the numbers of people starting to use heroin have been steadily rising since 2007.
6) Medications are available to treat heroin addiction while reducing drug cravings and withdrawal symptoms, improving the odds of achieving abstinence.
7) Nearly half of young people who inject heroin surveyed in three recent studies reported abusing prescription opioids before starting to use heroin. Some individuals reported switching to heroin because it is cheaper and easier to obtain than prescription opioids.
More than 460 people in Maryland fatally overdosed on heroin last year — up 88 percent statewide since 2011 — and the problem has shown few signs of slowing. Of the 528 drug or alcohol intoxication deaths in the first six months of this year, 296 involved heroin, according to state statistics. ~ Baltimore Sun.
From the Substance Abuse and Mental Health Services Administration (SAMHSA)
8) The slang terms for heroin are Smack, Horse, Mud, Brown Sugar, Junk, Black Tar, Big H, Dope and Skag.
9) Heroin enters the brain quickly. It slows down the way you think, slows down reaction time, and slows down memory. This affects the way you act and make decisions.
10) Heroin poses special problems for those who inject it because of the risks of HIV, hepatitis B and C, and other diseases that can occur from sharing needles.
11) Heroin is highly addictive because it enters the brain so rapidly. It particularly affects those regions of the brain responsible for producing physical dependence.
12) Heroin is one of the most frequently reported drugs by medical examiners in drug abuse deaths.
13) The signs of a heroin overdose include: shallow breathing, pinpoint pupils, clammy skin, convulsions and coma.
14) Because the strength of heroin varies and its impact is so unpredictable when used with alcohol or other drugs, the user never knows what might happen with the next dose.
Another crucial component we must not forget is that people who abuse or are addicted to opioids need to be kept alive long enough that they can be treated successfully.
From the Partnership for Drug-Free Kids
15) Heroin is a highly addictive drug derived from morphine, which is obtained from opium poppy plants. It is a "downer" or depressant that affects the brain's pleasure systems and interferes with the brain's ability to perceive pain.
16) The short-term effects of heroin abuse appear soon after a single dose and disappear in a few hours. After an injection of heroin, the user reports feeling a surge of euphoria ("rush") accompanied by a warm flushing of the skin, a dry mouth, and heavy extremities.
17) Long-term effects of heroin appear after repeated use for some period of time. Chronic users may develop collapsed veins, infection of the heart lining and valves, abscesses, and liver disease.
18) As higher doses are used over time, physical dependence and addiction develop. With physical dependence, the body has adapted to the presence of the drug and withdrawal symptoms may occur if use is reduced or stopped.
19)  Withdrawal, which in regular abusers may occur as early as a few hours after the last administration, produces drug craving, restlessness, muscle and bone pain, insomnia, diarrhea and vomiting, cold flashes with goose bumps ("cold turkey"), kicking movements ("kicking the habit") and other symptoms.
20) Major withdrawal symptoms peak between 24 and 48 hours after the last dose and subside after about a week.
To combat the rise of opioid deaths, the CDC suggested measures including drug screenings and the increased availability of naloxone, a drug that can rapidly halt an overdose.
21) The signs and symptoms of use are tiredness (aka "nodding off), pinpoint pupils, nausea, sores/marks on arms or other parts of the body, missing spoons/pens/money, a sudden change in appearance and/or attitude, unexplained absences.
22) The short-term effects are constipation, vomiting, clouded thinking, slowed speech, slowed movement, slowed breathing, slowed heart rate and euphoria.
23) The long-term effects are addiction, infections (HepatitisC or HIV/AIDS), blood clots, collapsed veins, decreased sexual desire and menstrual cycle problems.
24) Heroin is used by injecting, snorting, smoking or swallowing.
25) Heroin is considered to be one of the most highly addictive substances known to man. It may cause immediate changes in the brain which could lead to the brain disease of addiction.
Additional Articles on heroin:
Governors Step Up to Address Opioid Crises in Their States